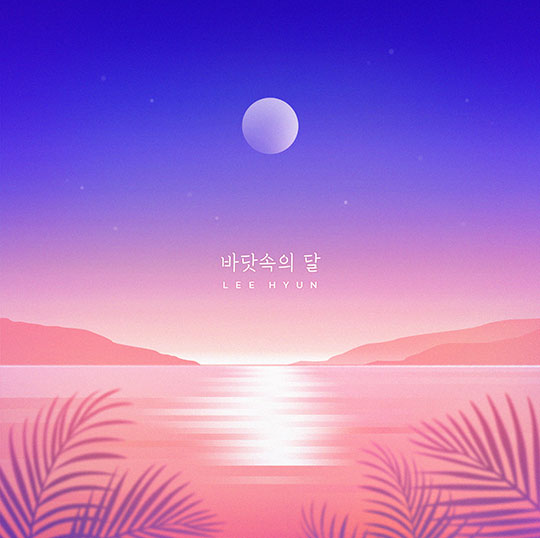 THE 24TH SINGLE ALBUM
Moon in the Ocean
A summer night soaked in Lee Hyun's voice!
New song "Moon in the Ocean" coming July 17.
Lee Hyun returns with trendy pop music! Now showing off an even wider musical spectrum.
Announcing Lee Hyun's "Moon in the Ocean," painting the summer nights! Featuring poetic lyrics written by the artist himself

Lee Hyun lights up the summer nights with his trendy new pop song, "Moon in the Ocean."

Lee Hyun returns to his fans' side at last with the release of his new song "Moon in the Ocean" on July 17. The song marks his first comeback in a year and five months since he released "Fool Again" as part of 8Eight last February, and his first new song since renewing his contract with BIGHIT MUSIC in March earlier this year.

With its emotional lyrics and pop music flavor, listeners of "Moon in the Ocean" are in for a treat thanks to a brand-new, never-before-heard singing style from Lee Hyun. He plays down his trademark wistful vocals in favor of emotional crooning that brings cool, breezy summer nights to life. Lee Hyun, already 15 years into his career, puts his wide musical spectrum on display and reasserts his position as a talented vocalist.

For "Moon in the Ocean," Lee Hyun worked with Lee Haein of the band Gong Joong Geu Neul to write lyrics on top of the melody composed by Danish musicians. Lee Hyun centered the entire idea of the song around the ocean and the moon and wrote the lyrics around this theme. You can almost smell the cool breeze blowing on a summer night through the romantic images of the moon and the deep blue sea in the lyrics.
This trendy pop song hits the ground running with a refreshing acoustic guitar riff that's sure to grab your attention and features music composed by Danish musicians Max Ulver, Andreas Ringblom, Daniel Schulz, and Viktoria Siff Hansen. The lyrics are co-written by Lee Hyun and Gong Joong Geu Neul band member Lee Haein. The broken up reflection of the moon seems to spread out before the listener's eyes on gently rolling waves with lyrics like,
"This summer night moonlight / Your touch shining on me / Blue summer night moonlight / Your breathing that embraced me." Lee Hyun's soothing voice adds cool romantic layers to the emotional lyrics that carry you far away from stifling nights.