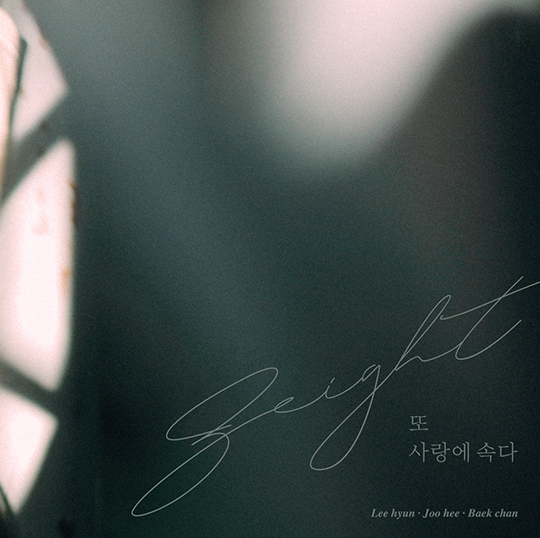 THE 23RD SINGLE ALBUM
Fool Again
8eight releases "Fool Again", first new single album in six years!
New ballad showcases inimitable vibe of 8eight
The 10th anniversary version of "Without a Heart" also released!

Vocal trio 8eight has come together again after six years with the release of the new song "Fool Again".

8eight, the trio that had charmed the entire nation in the romantic melodies of its chart-topping tracks such as "Without a Heart" and "Goodbye My Lover", is making a comeback with its new single album entitled "Fool Again" to be released on February 7. It is the trio's first new single in six years.

Members Lee Hyun, Baek Chan, and Joo Hee came together in celebration of the 10th anniversary of the release of "Without a Heart" to present their fans with an 8eight-branded ballad in collaboration with Bang Si-hyuk and Wonderkid, who were instrumental in the trio's success.

Timeless vibe unique to 8eight
8eight is a group comprised of three members with distinctive strengths: Lee Hyun known for his powerful voice, Joo Hee boasting her mellow and pure tone, and Baek Chan admired for both his singing and rapping. The different colors of these three members harmonized beautifully and placed them firmly at the top in the genre of farewell songs to lovers in the late 2000s.

The newly released "Fool Again" is the epitome of the sentiment unique to 8eight. The trio joined hands with producer Bang Si-hyuk, regarded as the person responsible for the group's heyday, and recorded another 8eight-branded ballad mourning a farewell that is both composed yet heart-wrenching. "Fool Again" sung in the ethereal harmony of the three voices will create unforgettable moments this winter.

"Without a Heart", an all-time masterpiece given new spark after ten years
8eight was at its absolute peak in 2009 with the hit "Without a Heart". This song reinforced 8eight's foothold as the nation's leading ballad group, adding to the trio's distinctive musical world represented by the captivating contrast between exciting beats and heart-wrenching lyrics about saying farewell.

Last year marked the 10th anniversary of the release of "Without a Heart", and its remix version created to celebrate the occasion brought the members together once again. The remix version is a more sophisticated and modern take on the soul-stirring original and is sure to carry many 8eight fans down sweet memory lane.
TRACK
1

Fool Again

3'21"

2

Without a Heart (10th Anniversary Ver.)

3'38"